by

DEneeraj Multi-lingual services |
Translation & Interpreting Solutions in India
If you want to expand your business in different countries. Do you require better-quality and accurate Translation & Interpreting Solutions in India ? Don't look beyond : India based DEneeraj Multi- lingual services® (DMS)   . We provide cost effective and quality Translation & Interpreting Solutions.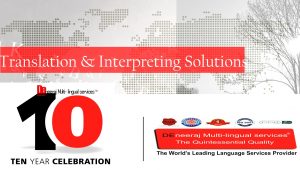 For the more info please mail us or call at neha@deneeraj.in & +91 9820 17 17 66
Our translation organization in India has a vast network of professional bilingual and native experts, as we offer Translation & Interpreting Solutions in all major languages from all over the world. Call us or email us now to receive a free quote for your Translation & Interpreting project in more than 160 languages and dialects.
The need for a professional Translation & Interpreting Solutions is the key  for the businesses to grow in contemporary and increasingly globalised world.
From user manual to discussion interpretation, from Simultaneous interpretation to Consecutive interpretation in India everything is  our expertise . Our experienced translators are specialized in their fields, so that they can provide the best Translation & Interpreting in India   to reach and represent the target audience.
DEneeraj Multi- lingual services® (DMS, aside from offering Translation & Interpreting  Solutions , also offers VO, Dubbing and teaching  of  all levels and in tight deadlines.
Contact us now for a
FREE

quote!

By Deneeraj Multi-Lingual Services
Our Translation & Interpreting team provides exceptional quality and service by taking a customised, consultative approach to each project.  We Provide multi t language services for global players s to get your products and services  to market quicker and share vital product  and services information with an international  chain.