All our Foreign Language Interpreters are Native or Near Native Speakers
All our Arabic Interpretation in Pune are capable enough to execute with exceptional onsite and telephonic interpretation with equipment we offer your recognized projects.  No other company can match our precision, knowledge and our interest to absolute customer satisfaction. DEneeraj Multi- lingual services® (DMS) is the one-stop linguistic solution in Hindi Interpretation Services in Mumbai for any corporation looking for accurate Translation, Interpretation & Transcription in India at highly competitive tariffs.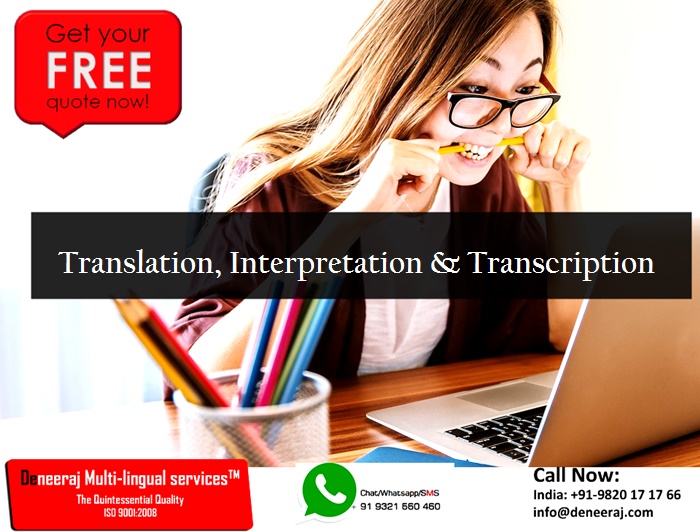 Our Chinese Language Interpretation in Delhi, your venerated projects need the absolute attention to the accuracy with cultural understanding and only human translators can achieve the same our professional Korean Interpretation in Hyderabad we opt a systematic translation methodical with Subject Matter Expertise (SME) which is choosing the right term can be accomplished by human efforts. Our French Interpretation in Delhi.
Contact us now for a 
FREE

 quote!

Graphic design is the art of communication with the help of image of combination of images, static or movables from past and present. The graphic designer designs these images to convey messages. He may make use of a combination of images with text, audio and other methods for it to appear as a visual representation of ideas.
For more information about our Graphic design services contact:
Deneeraj Multi- lingual services™ TRUST (Trusted by the world's best companies) Deneeraj Multi-lingual services™ is ISO 9001:2008 Certified Company offers Languages and global business solutions.
Common uses of graphic design include identity of the organization (logos and branding), publications (magazines, newspapers and books), image advertisements, posters, website graphics, billboards etc.
Indian Languages
| Assamese | Bengali | Gujarati | Hindi | Kannada | Malayalam | Marathi | Oriya | Punjabi | Sanskrit | Tamil | Telugu |
| Urdu |
Asian and Middle East Languages
Arabic | Burmese | Chinese (Mandarin/ Cantonese) | Dari | Farsi (Persian) | Hebrew | Indonesian | Japanese |
| Korean | Malay | Nepalese | Pushto | Singhalese | Thai | Vietnamese |
African Languages
Afrikaans | Amharic | Oromo | Rwandan | Somali | Swahili | Tigrigna | Twi | Zulu |
European Languages
Catalan | Danish | Dutch | Flemish | Finnish | French | German | Greek | Italian | Norwegian | Portuguese |
| Spanish | Swedish |