by

DEneeraj Multi-lingual services |
Translation & Interpretation services in Lucknow
The basic difference between Translation & Interpretation is about how we are communicating the massage by breaking the language barrier. When we express verbally then it is known as Interpretation and if the same communication happens in written format then it is translation. There are two types of interpreting: consecutive Interpretation and simultaneous Interpretation also as an acronym SI Lucknow.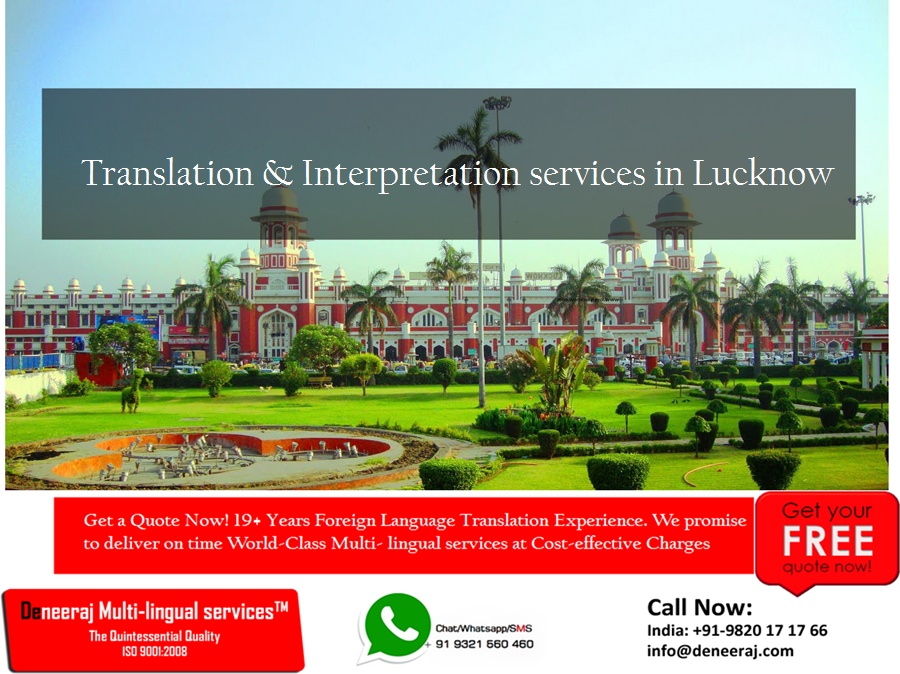 DEneeraj Multi-lingual services® (DMS) TRUST   end-to-end linguistic solutions, special interpretation like SI (simultaneous interpretation) in Lucknow
Writing, proof Reading, DTP, Voice-Over, Teaching, national & international Networking for Businesses; with Head- office at Lucknow, India with pan-India operations. Since 1998, we've helped hundreds of customers find the right words with a full suite of interpreting, Interpretation  and localization services— 160 different languages and every linguistic assistance is backed by our 100% Satisfaction Guarantee. DEneeraj Multi- lingual services™ TRUST (Trusted by the world's best companies).
Sometimes interpreters have many challenges while interpreting because you are not expected to interpret word by word; instead, you need to get the messages from source language to target language, instantaneously and precisely. Interpreters have to work in real-time situations, in direct contact with both the speaker and the audience. They have to have exceptional linguistic expertise which comes through rigorous    training and experience
Our Business Interpretation from English, French, Spanish, Hindi English, Tamil, Portuguese language to any target language, we have also translators of bilingual, trilingual and quadrilingual expertise in Lucknow and other  many cities of India.
DEneeraj Multi-lingual services® (DMS) consecutive Interpretation, simultaneous Interpretation and  equipment in Lucknow India for larger and most multifaceted events, seminars and conferences.  We have been doing consecutive interpretation for more than 15 years, we    believe in the humanistic approach in linguistic services, we engage only native or near native language experts with polyglots ability.  Our highly experienced VO actors and artists that can organically recreate the original magic of your Voice over needs like dubbing and narration.