by

DEneeraj Multi-lingual services |
Public Speaking | Presentation Skills | Speech Writing Training, India
As we all know, sometimes we get frightened when tested with the prospect of writing as well as delivering a speech.  It is extremely imperative for everyone as a part of  self-growth by  acquiring creative writing skill , how to compose and communicate a great speech. While a smart person can learn this skill through trial and error, listening closely  to good orators, but DEneeraj Multi- lingual services® (DMS) has  super easy and faster shortcuts that you can discover in our on-going  speech-writing in Noida  or just simply  avail our Speech Writing Solutions in India.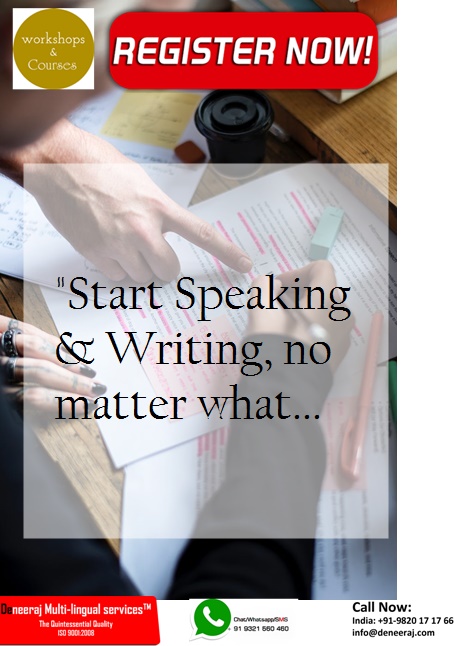 Speech Writing Solutions & Public Speaking Courses, & Online Sessions in  Lucknow.
Our personalized speech writing and public speaking Training is aimed to address the different aspects of creative writing. The perfect   Speechwriter in India  has a leading role in deciding the influence any effective and engaging communication has on its intended audience. At DEneeraj Multi- lingual services® (DMS) Speech Writing Solutions in India & Speech Writing Training in Delhi, Lucknow; Helping you to get Speechwriting skill  and we will also support you to do Editing & Proofreading of your work. Our speech writing and public speaking courses in Lucknow will take it up a Notch with Online, On the Phone & in Person.
Call Us Now: +91 (0) 9820 1717 66 & Chat Whatsapp At +91 (0) 9321 560 460
Written text communicates better as  a message to audience more perfectly and accurately with right kind of emotions and can be followed definite action.  As  high-quality   content writing  company in Delhi with more than 10 years experience . Our team of    SOP & LOR writers in Pune can write as well as translate into different language  by  understanding cultural nuances  and language needs;  one of the very important writing services we provide wedding speech Writers in Noida  we have written in more than 30 languages and dialects. Call for our SOP & LOR writing services in Lucknow, India.
We also Provide The Following Writing Services:
Technical
Editorial Column
Blogs & Social Media Content
Brochure Design
Academic Writing
News Feeds
Essay & SOP
Newsletters & Emails
Press Releases
Product Descriptions
Creative Writing
Public Speaking Program on the Phone in Mumbai
We are avid about creative writing in general and Public Speaking in particular. We don't just coach through innovative learning methods; we ensure Public Speaking and Speech Writing in Mumbai progressively acquiring all aspects of Public Speaking. DEneeraj Multi- lingual services® (DMS) Public Speaking techniques are Wide-ranging, Pleasant and Stress-free and shape on evidence-based methods. Our Speech Writing  in Mumbai help you to obtain communication competence.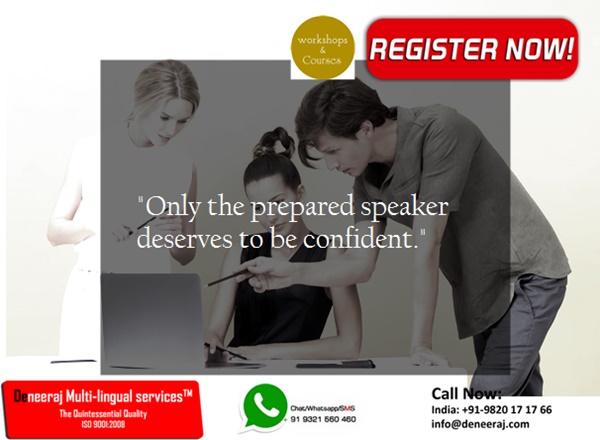 1:1 Training Online Session via Skype
Register now and upgrade your existing  writing skills with the DEneeraj Multi- lingual services® (DMS) Excellence Assured
Public Speaking & Presentation Skills Courses in Delhi
Even simple speech and its Presentation can be unnerving. With Public Speaking & Presentation Skills Courses in Delhi, you can drop the stress of writing speech and presenting it and just concentrate on   holding an audience's attention with poise & precision. DEneeraj Multi- lingual services® (DMS) offers highest quality Public Speaking & Presentation Skills Training in Delhi for corporates and individuals.
Learn Online and on Your Mobile
Book your Free & Friendly 20 minute phone consultation
Call us NOW   on 0 9820 17 17 66 Monday-Sunday between 8am-8pm.
Call NOW for Engaging Phone Conversation & Discover The Wining Power of Friendly Evaluation!
Call us NOW  at +91 (0) 805 244 2444
Accomplishment Story from our Learner
 "You guys are Amazing You have done a great job. You helped me at the last moment and saved my admission. Thank you so much guys.."- Sudhir Tyagi   from delhi.
"The team DEneeraj has been a source of my Presentation improvement and Very lucky to have them as a mentor…"- Amaya Mantri
Contact us now for a FREE Speech-writing Assessment!