by

DEneeraj Multi-lingual services |
Translation, Content, Speech & Copy-writing Services in Mumbai, Delhi, Pune, Kolkata, India
Writing services in more than 60 languages worldwide. Right content is key if you want build strong digital signature globally. DEneeraj Multi- lingual services® (DMS)   Excellence Assured; the global leader in original writing Services & Translation Solutions in India  and every linguistic support  is backed by our 100% Satisfaction Guarantee.  Our specialized speech writing services in Mumbai that put your feelings into magical words. We have a group of speech writers in Mumbai, we are also specialized in speech writing courses  in Delhi with  our expert speech writer in Delhi.
For the more info please mail us or call at neha@deneeraj.in & +91 9820 17 17 66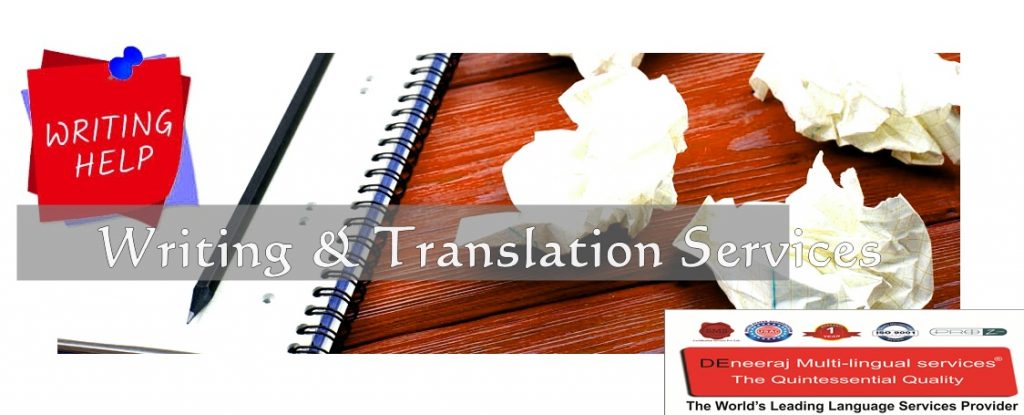 Original content from professional writers
✓   100% approval guarantee
✓   Copyright to all content developed
✓   Fast TAT
✓   Free revisions
Written text communicates a message to audience more perfectly and accurately with right kind of emotions and can be followed as an action.  As  high-quality  writing and translation company in Delhi with more than 10 years experience . Our team of multilingual   speech writers in Pune can write as well as translate into different language  by  understanding cultural nuances  and language needs;  one product wedding speech Writers in India  we have written in more than 30 languages and dialects.
We Provide The Following Writing Services:
Advertising Content
Technical
Editorial Column
Blogs & Social Media Content
Brochure Design
Academic Writing
News Feeds
Essay & SOP
Newsletters & Emails
Press Releases
Product Descriptions
Creative Writing
Website Content
Wedding Speech
Promotional Material
Speech
Research Paper
Proofreading & Editing Services
DEneeraj Multi- lingual services® (DMS) Translation, Editing and Writing Services tailored to audiences globally. We write, edit and translate so that your communiqué can be very precise. Because culturally and linguistically correct communication forms better connections.
Document Translation and Back Translation.
Localization of Products & Tool.
Interpretation & S. I. Of Foreign as well as  Indian Languages
Typesetting, Proofreading & Graphics
Transcription, Transcreation & Transliteration
Multicultural Marketing &  Research
Career Support For Language Professionals
Multilingual Subtitling, (VO) Voice Over, Recording, E-book & Publishing
Website Translation With Website Design &  Web Content Writing
Writing Speech, Scripts, Technical, Copy &  Content
Linguistic Validation & Training
Contact us now for a FREE quote!
By Deneeraj Multi-Lingual Services
Our Writing & Translation team provides exceptional quality and service by taking a customized, consultative approach to each project.  We Provide multi  language services for global players s to get your products and services  to market faster and share essential  information with an international  chain.