by

DEneeraj Multi-lingual services |
Professional Translation Company or Freelance Translators
Most of the clients or particularly the new one prefer Freelance translators because they assume it can be cost effective , which is partially true.    But a translation agencies are often more accurate than the freelancers because they work with many translators and have many checks and balances. This means that if an agency provides you  a wrong translation it can never going to get another assignment from you. A freelancer, on the other hand, work independently so translation,  editing and proofreading and even revision process will be done by single person so it is difficult to concentrate or finding mistakes on every aspects of a translation project is really tough especially of your own work. Where an agency can hire two different translators for doing the same project just like in the case of a BACK TRANSLATION is where you take a translation project which has been translated into a target language and translate it back into the source language and compare the two to check the accuracy and authenticity of translation.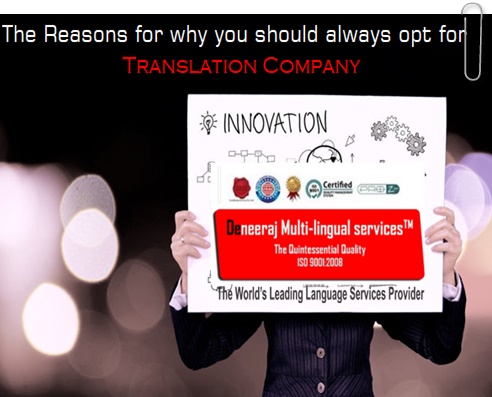 The Reasons for why you should always opt for Translation Company
You might be astonished, but most freelance translators offer not so great quality. This is because they take up huge volume, and it is virtually impossible to check the quality of every single page and they don't have other resource to proofread it simultaneously in short turnaround time. On the contrary the translation agencies have many choices include a committed team of translators, interpreter, writers, proofreaders, transcribers, editors, and DTP operators. At DEneeraj Multi- lingual services® (DMS)   sometimes we hire two different translators for the same project and a project manager to maintain the consistency and quality of translation. A team of translators work systematic and follow a Protocol for Methodical translation Quality Assurance.
Document Translation & Back Translation.
Localization of Products & Tool.
consecutive interpreting (CI) & simultaneous interpretation with equipment
Typesetting, Proofreading & Graphics
Transcription, Transcreation & Transliteration
Multicultural Marketing & Research
Career Support for Language Professionals
Multilingual Subtitling, (VO) Voice Over, Recording, E-Book & Publishing
Multilingual Website with Multilingual SEO  Web Content Writing
Writing Speech, Scripts, Technical, & Copywriting
Linguistic Validation & Training.
 NEED A TRANSLATION QUOTE?
DEneeraj Multi- lingual services® (DMS)   helps  bridge the language obstacles, our many  business clients  are employing the use of our  translation services, which are designed to ensure every document and marketing material — whether it be a website or advertising material  — is translated flawlessly. You can also read our previous article –Languages, Translation, Words, Interpretation & Expressions
A priori, it's clear that in some cases if you need translations in just one language or a simple text, the best option for you is certainly a freelancer. Specifically when you have a low budget, the evident choice is a freelance translator. Sometimes, to find a freelance translator with subject-matter knowledge as well as linguistic expertise is not so easy. But the thumb rule is that the more multifaceted the translation work, the more appropriate the work is for translation companies.
French Translation in India, 160 plus languages, professional Spanish Translation 19 years, Indian Translation jobs. Get German Translator in Mumbai.
So if you're still not sure, just   pick up the phone and give us a call what you need. We'll soon be able to support you. Call us today at 98200 38 390  or send us an email at info@deneeraj.com for more information!