by

DEneeraj Multi-lingual services |
Interpretation and translation services in India
Languages, Translation, Words, Interpretation & Expressions
They are perhaps the earliest forms of art that rose from the roots of our rise as a species to a civilization.  According to the biblical legend, the humans were punished by God for creating a very high tower with the curse of multiple languages. The tower of Bable thus gave rise to the expression called "Babbling." If such was a curse was set on the planet, maybe sending spaceships out was the best thing we've ever done.
Language is a gift. A gift that sometimes feels lost in translation.
We at DEneeraj Multi- lingual Services® (DMS) believe that the human space is a Multi-Lingual, Multiregional, & Multicultural expanse. In all our services in Translation, Localization, Voice Over, Interpretation, Dubbing and Website Localization Services, we have noticed some common mistakes done by our contemporaries and clients alike.
Unwillingness to Understand It
So perhaps the real curse was not language, but unwillingness to understand it. To assume that the words and feelings behind sentences are just "babbling," of a less literate person. Ignorance was the real curse. And yet we do this over and over. Every time we translate a word in its most basic apparent meaning. Refusing to feel it. Refusing to make the message behind it truly our own.
Some words have been borrowed from culture to culture because there was no sensible way to explain or describe them.
Translation & Interpretation are the Artistic expressions
It is not something one can throw through Google translate and expect an understanding. Nor does careless interpretation help one communicate well.  As with all things that have led humanity to the station it enjoys now, Language, no matter where from must be revered. Must be understood and felt, Must be celebrated.
And then some words do not express the feeling. They become the feeling.
"Love," as an example is a much celebrated word in English language denoting a meaning most sacred to us. But the same meaning in Spanish is symbolized by the word "Amore."
The cold detachment of "It has nothing to do with us," is never the same as the joyful abandon of Punjabi "Sannu ki".
The delicate romance of Italian "Giuseppe marline" is never the same the stoic American "Joe green." The true American English translation of "Jo jee kare kar," in Hindi then is not "Do what you want," but "whatever floats your boat."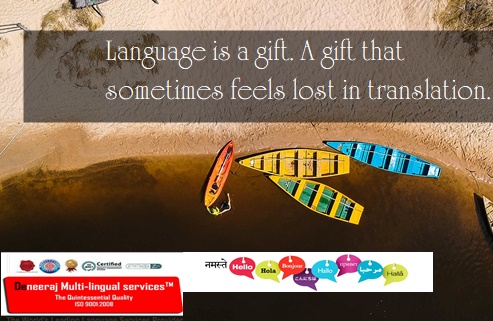 Interpretation and translation services in India
Find your words. Make yourself heard. That is the true gift of language. That exactly what DEneeraj Multi- lingual services® (DMS) Translation, Interpretation, & Transcription offer.
Documents
Patent Applications
Immigration Records
Court Judgments
Testaments, and more…
Training Manuals
User Instructions
Memos & Directives
Field Guides, and more…
Ads & Posters
Brochures
Proposals
Presentations
Minutes & Resolutions
Correspondence
Manuals
Statements
Medical Brochures
Leaflets
Transcriptions
Related – Machine or Human Translation – Which to Pick
DEneeraj Multi- lingual Services
® (DMS)

 is trusted by Over 100 Companies

Including some of the world's largest and most prominent organization government and non-governments both.  Our team of expert translators, writers and interpreters with broad know-how in the most diverse fields. This knowledge guarantees that our clients will get best possible Translation & Globalization Services
Contact us now for a 
FREE

 quote!