by

DEneeraj Multi-lingual services |
Web Translation Services in More Than 160 Languages
Order A FREE Translation Quote from DEneeraj Multi- Lingual Services®   Today For Your Translation Project .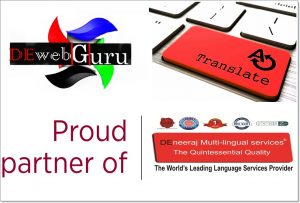 India has become a very significant market for multinational companies that wish to expand their business and enhance sales in  multilingual support. Companies willing to capitalize conducive opportunities that the Indian market offers, count on us to deliver Translations, Interpretation and Localization services in more than 160 languages  to help their products/services compete with local competition. Apart from translation, interpreting, and other linguistic services (transcription, on-site translation, proofreading, copywriting, localization) in all Western/Eastern European and Indian languages, we also do layout and publication.
A perfect translation of your technical and commercial information
Layout in accordance with source language format e, or recorded by your chosen voice and adapted to your target audience. A single point of linguistic services contact who knows your company very well and would like to serve with utter most sincerity.
We are the professional translation company you can trust. We have just started web designing and development with professional web translation services to count the number of words on your  existing website.  Thanks to our own translation technology, you can. Free. DEneeraj Multi- lingual services®; the global leader in Innovative Language Translation Services & Solutions can also keep track of your new blogs  and translate your website into more than 160 languages.
Polish translations
German translations
Latin  translations
Sanskrit  translations
Russian translations
Ukrainian translations
Bulgarian translations
Czech translations
Hindi  translations
Slovenian translations
Greek translations
Arabic  translations
French  translations
and  many more