by

DEneeraj Multi-lingual services |
We pledge with precision
A multilingual Voice-over,  Translation Localization and interpretation company  that understands the implication of language, We pledge with precision from the beginning, our relation with our esteemed clients are based on flawless and  Perfect Voice, Localization & Translation solutions in India.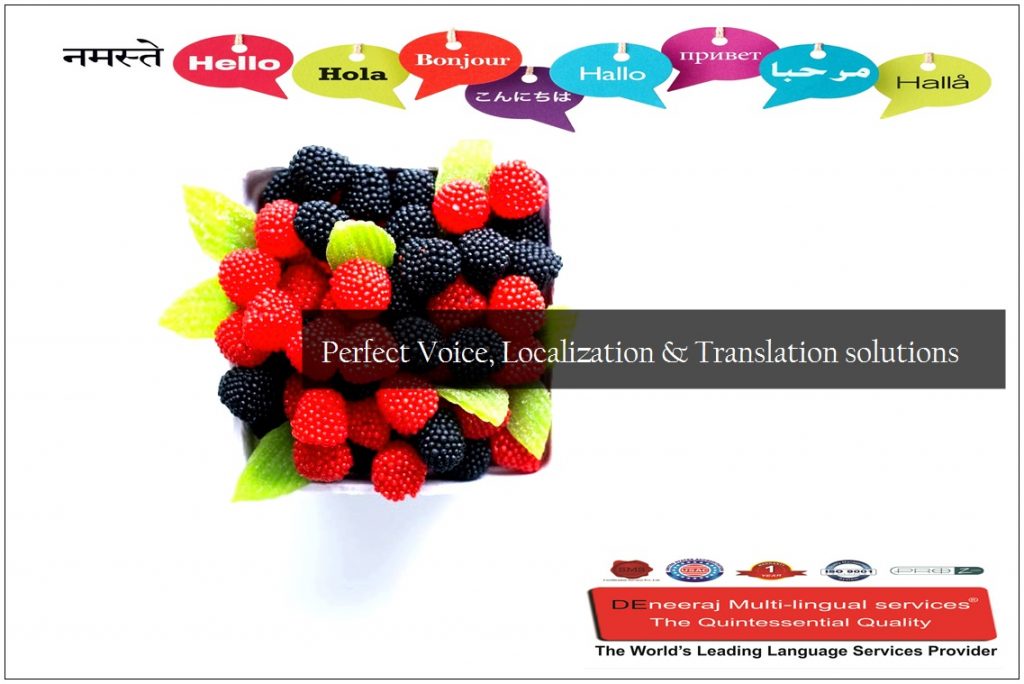 Loved By worldwide Companies across the Globe
With a compact team who believed we could bring about change in linguistic solutions and services for a very competitive cost, without ever quality compromise of allotted Localization & Translation assignments in any target language. We do everything possible  for our client but will also be completely truthful regarding what we can bring on each individual project.
Call now + 91-8052442444 Perfect Voice, Localization & Translation solutions in Mumbai, Delhi, Pune, Kolkata, Hyderabad, Bangalore, Surat, Chennai, India
DEneeraj Multi- lingual services® (DMS) has immense experience executing translation projects of many complicated but historically significant texts and literature.  It is a one-stop solution for any company looking for accurate translations at highly competitive rates.

DEneeraj Multi- lingual services® (DMS) leader in multilingual translation and interpretation services in over 160 languages.
The Perfect Voice-over artist, linguistic expert, translators and writers of DEneeraj Multi- lingual services® (DMS) can offer voices,  translation & interpretation  in numerous  language combinations. Our translators can translate   any number of documents, including l articles, books, poetry, and short stories.
DEneeraj Multi- lingual services® (DMS) offers translation of literary, web copy, reports, legal papers, instructional guides, brochures and other documents. Our Interpreters facilitate oral communication in conferences and meeting.
Services and we have worked in just about every   field, and we take great pride in our ability to bridge the gap caused by a language barrier. We have vast experience in Language, Literature, and Translation & Interpreting.
Specialized Voice, Localization & Translation Solutions
Our voice artists, writers, translators and interpreters often have to work with other different areas, depending on the subject area of the material they are required to translate or interpret.
We provide Language, Literature, Translation & Interpreting Services and solution in more than 160 languages and dialects with multiple offices and associates.  We also interpret into/from over 100 languages, including all the main European, Asian, American, African, Indian and Middle Eastern languages.
DEneeraj Multi- lingual services® (DMS) offers VO, Translation & Interpretation:
Document Translation
Onsite Translation
Voice-Over
Proofreading And Editing
Localization
Desktop Publishing
Interpretation
Typesetting
Transcreation
Improving Existing Translations
DEneeraj Multi- lingual Services® (DMS) is trusted by Over 100 Companies
Including some of the world's largest and most prominent organization government and non governments both.  Our team of expert translators, writers  and  interpreters with  broad know-how in the most diverse fields. This knowledge guarantees that our clients will get best possible Translation & Globalization Services
Contact us now for a 
FREE

 quote!