by

DEneeraj Multi-lingual services |
World increasingly becoming Multilingual and polyglot speakers outnumber monolingual. So there is huge demand for Multilingual individuals as well as linguistic services.
DEneeraj Multi-lingual services® (DMS) TRUST end-to-end linguistic solutions, special interpretation like SI (simultaneous interpretation)
Writing, proof Reading, DTP, Voice-Over, Teaching, national & international Networking for Businesses; with Head- office at Lucknow, India with pan-India operations. Since 1998, we've helped hundreds of customers find the right words with a full suite of interpreting, translation and localization services— 160 different languages and every linguistic assistance is backed by our 100% Satisfaction Guarantee. DEneeraj Multi- lingual services™ TRUST (Trusted by the world's best companies).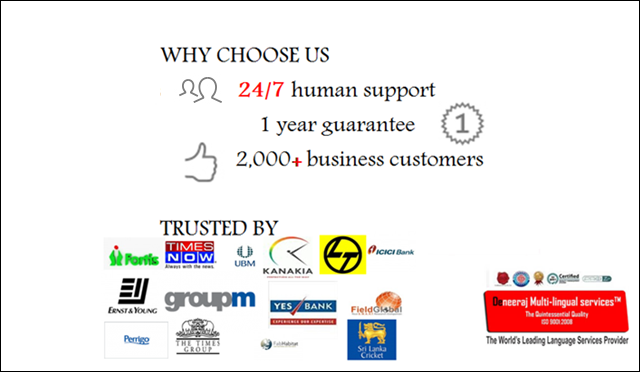 Business translation from English, French, Spanish, Portuguese language to any target language, we have also translators of bilingual, trilingual and quadrilingual expertise in many cities such as
Mumbai
Lucknow
Varanasi
Kanpur
Allahabad
Delhi
Bangalore
Chennai
Kolkata
Hyderabad
Shilong
Jaipur
Bangalore
Chennai
Coimbatore
Hyderabad
Kochi
Madurai
Mysore
Pondicherry
Thiruvananthapuram
DEneeraj Multi-lingual services® (DMS) arranges SI equipment for bigger and most multifaceted events, seminars and conferences. We have been doing consecutive interpretation for more than 15 years, we believe in the humanistic approach in linguistic services, we engage only native or near native language experts with polyglots ability. Our highly experienced VO actors and artists that can organically recreate the original magic of your Voice over needs like dubbing and narration.
By Deneeraj Multi-Lingual Services