by

DEneeraj Multi-lingual services |
Localization & Translation of Ancient Texts in 
Bhubaneswar
As the leading player in   Localization & Translation of Ancient, Spiritual and Historical Texts. We have translated very complicated texts in multilingual formats and our greatest  strength is  "location-independent"   native Translators And Writers  in Bhubaneswar with proven  track record.
DEneeraj Multi- lingual services® (DMS) leader in multilingual translation and interpretation services in over 160 languages.
For the more info please mail us or call at neha@deneeraj.in & +91 9820 17 17 66
The Translators and Writers of DEneeraj Multi- lingual services® (DMS) can translate/interpret in multiple  language combination. Our translators in  Bhubaneswar  can translate   any number of documents, including l articles, books, poetry, and short stories.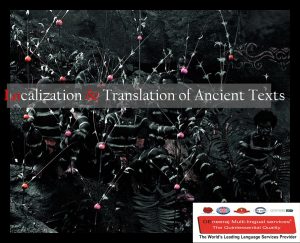 Localization & Translation of Historical Texts
DEneeraj Multi- lingual services® (DMS) has immense experience executing translation projects of many complicated but historically significant texts and literature.  It is a one-stop solution for any company looking for accurate translations at highly competitive rates.
DEneeraj Multi- lingual services® (DMS) offers translation of literary, web copy, reports, legal papers, instructional guides, brochures and other documents. Our Interpreters facilitate oral communication in conferences and meeting.
Professional Localization & Translation of Ancient Texts
Our translators and interpreters in Bhubaneswar,  India often have to work with other different areas, depending on the subject area of the material they are required to translate or interpret.
We provide Language, Literature, Translation & Interpreting Services and solution in more than 160 languages and dialects with multiple offices and associates.  We also interpret into/from over 100 languages, including all the main European, Asian, American, African, Indian and Middle Eastern languages.
DEneeraj Multi- lingual services® (DMS) translates and interprets include:
document Translation
Onsite Translation
Review
Proofreading and Editing
Localization
Desktop Publishing
Layout Formatting
Typesetting
Transcreation
Improving existing translations
DEneeraj Multi- lingual services
® (DMS)

is trusted by Over

100

Companies

Including some of the world's largest and most prominent organization government and non governments both.  Our team of expert translators, writers  and  interpreters with  broad know-how in the most diverse fields. This knowledge guarantees that our clients will get best possible Translation & Globalization Services
Contact us now for a
FREE

quote!

By DEneeraj Multi- lingual services®