by

DEneeraj Multi-lingual services |
Language localization in Mumbai, Delhi, Pune, Kolkata, Chennai, India
Language translation and localization   are to convey bilingual & multilingual communication, both spoken and written.
DEneeraj Multi- lingual services® (DMS) offers translation & localization of business documentation, tools, products and consequent we also facilitate consecutive and conference interpretation.  The activity of translation started long ago with Industrial Revolution that began in the mid-18th century, some translation Services & specialties have become operationalised, with committed colleges and specialized associates.
Call now + 91-8052442444 Language localization in Mumbai, Delhi, Pune, Kolkata, Hyderabad, Bangalore, Surat, Chennai, India
Why Translation or Localization is required?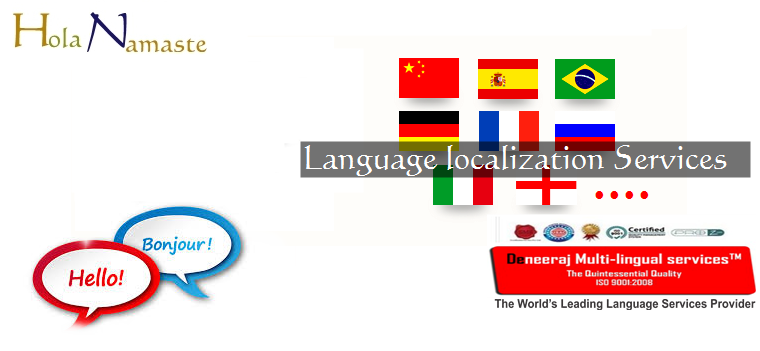 A simplest answer is to overcome language barrier.  Because the real dialogue and growth can never be achieved unless one or both parties involved learn each other's language, which requires an investment of much time and effort. People travelling for work or pleasure to distant foreign lands often face difficulties in communication.

 Similar kinds of difficulties are encountered in launching new products or services, even at multinational conferences, where Language localization and interpreting services are extremely crucial   for the success of the same.  It   entirely depends on accurate communication written or otherwise.
DEneeraj Multi- lingual services® (DMS) Language localization in India and translation services and solution differ  from simple  translation  because it deploys  not only essential  linguistic skills but also subject matter expertise (SME), so our esteemed and experienced translators and writers can decipher accurate and culturally appropriate   translation and localization.
We offer translation and website  localization in Delhi  in more than 160 languages and dialects with multiple offices and associates.  We also interpret into/from over 100 languages, including all the main European, Asian, American, African, Indian and Middle Eastern languages.
Document Translation and Back Translation.
Localization of Products & Tool.
Interpretation & S. I. Of Foreign as well as Indian Languages
Typesetting, Proofreading & Graphics
Transcription, Transcreation & Transliteration
Multicultural Marketing & Research
Career Support For Language Professionals
Multilingual Subtitling, (VO) Voice Over, Recording, E-book & Publishing
Website Translation With Website Design & Web Content Writing
Writing Speech, Scripts, Technical, Copy &  Content
Linguistic Validation & Training etc.
DEneeraj Multi- lingual services® (DMS) is trusted by Over 100 Companies
Including some of the world's largest and most prominent organization government and non governments both.  Our team of expert translators, writers  and  interpreters with  broad know-how in the most diverse fields. This knowledge guarantees that our clients will get best possible Simultaneous Interpretation services
Contact us now for a
FREE

quote!