by

DEneeraj Multi-lingual services |
Film script and Screenplay Translation Services
By DEneeraj Multi- lingual services®
The movie script must translate and transcend the culture boundaries in order to have universal appeal, we translate scrupulously the very essence of storytelling. The localization is absolutely is must for a film script or screenplay. DEneeraj Multi- lingual services® (DMS) professional film script translators in India  can even add subtitles in target language and overdub, and translate any text, regardless of duration or dialect. DEneeraj Multi- lingual services® (DMS) offers Translation Services and solutions with thorough notes and above all supportive and friendly advice on your script and Screenplay. We offer a wide range of translation translation services and solutions, including –
Film Translation
Short film Translation
Online Translation
Video Translation
Television Translation
Documentary Translation
Story /Poem Translation
Content Translation
Dialogue Translation
Speeches For All Occasions
Web Series Translation
Contact Center Speech
For the more info please mail us or call at neha@deneeraj.in & +91 9820 17 17 66
Translation of script and Screenplay by DEneeraj Multi- lingual services® (DMS) may benefit your revered organization in the many ways:
Our writers have several years of experience script translation in Mumbai.  You ever need, the script and Screenplay.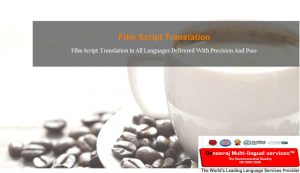 DEneeraj Multi- lingual Services
® (DMS) 

is trusted by Over 100 Companies

Including some of the world's largest and most prominent organization government and non governments both.  Our team of expert translators, writers and  interpreters with  broad know-how in the most diverse fields. This knowledge guarantees that our clients will get best possible Translation & Globalization Services
Contact us now for a 
FREE

 quote!