by

DEneeraj Multi-lingual services |
Welcome! The question is Why the role of accurate translation is absolutely imperative for the cultural growth. The bookish definition of translation is communicational bridge between source-language to target-language. It is significant because we all understand better in our native language.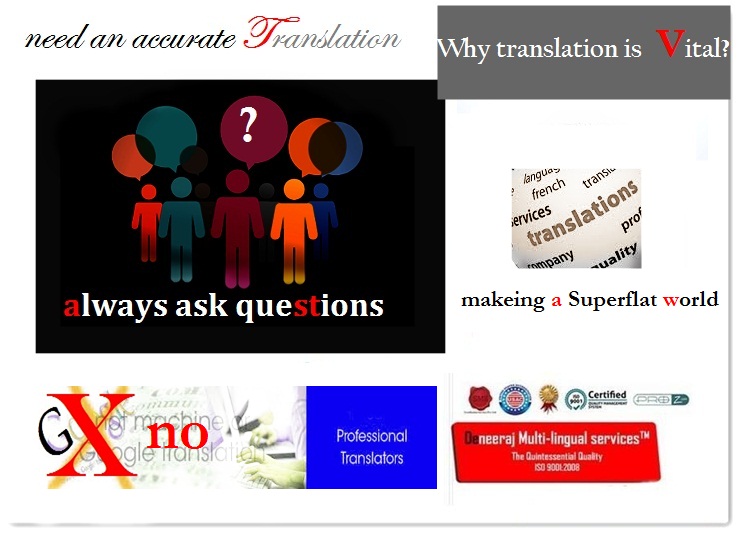 DEneeraj Multi-lingual services® (DMS) TRUST translation and interpreting services  in India will Connect you and your esteemed organization to the various Global platforms. All our translators are native will assist you to spread your Ideas and the Information to your potential clients.
Selecting Translation services That Actually Work
Our multilingual services would also help you start implementing the sheer power of multi languages support . Select from our highly qualified and experienced human translators to ensure your outsource will give you excellent quality . Our language translation services will facilitate your communication with your potential customers in any preferred language.
For the more info please mail us or call at neha@deneeraj.in  &  +91 9820 17 17 66
For DEneeraj Multi-lingual services® (DMS) TRUST REMOVING LANGUAGE BARRIERS is the only way to enforce our commitment to quality and professionalism. With our workshops and programs optimize your interpersonal and intrapersonal communication.
DEneeraj Multi-lingual services® (DMS) TRUST extensive multidimensional team not only does translation to increase the global interactivities, but allows big companies to forge strong relationships based cultural and linguistic cooperation . Because when we speak the same language then the communication becomes very easy.
Transform Your Organization with our Translation
Special language translation and interpreting services with local presence and global vision
DEneeraj Multi-lingual services® is quality oriented and Innovative translation, Writing, Proof Reading, Voice-Over | and Interpretation support.
DEneeraj Multi- lingual services™ (DMS) Excellence Assured
DEneeraj Multi-lingual services® (DMS) TRUST end-to-end linguistic solutions, special SI (Simultaneous interpretation) & Voice over with sense of breakthrough and fast Turn Around Time .
DEneeraj Multi-lingual services® precise translation can play a very important role such as assimilation of distinctly different cultures. Thus, translation is not just linguistic practice, but it can create an Industrial revolution, make a political statement and ignite new social narrative.
By Deneeraj Multi-Lingual Services